This article by Hugh Murray was published in The York Historian in 1996.
It has a great deal of detail and includes a family tree, thirteen of Richard's letters and six of Louisa's.
Hugh Murray is a prolific author with a special interest in all things York.
In 2004 he was presented with a British Association For Local History Award
for personal achievement for his services to local history in York.
---
Mr Micawber in York
By Hugh Murray
Summary Richard Chicken has long been thought to be the prototype for Dickens's character, Wilkins Micawber. This article explores the life and varied career of this 19th century York eccentric and brings together all the known surviving letters of Richard Chicken and his wife.
Annual income twenty pounds, annual expenditure nineteen nineteen six, result happiness.
Annual income twenty pounds, annual expenditure twenty ought and six, result misery.
This formula for achieving bliss and avoiding penury, so powerfully and succinctly stated, was put by Charles Dickens into the mouth of one of the most memorable and best known of his characters, Wilkins Micawber (Figure 1), who provided lodgings for the ten-year-old David Copperfield as he began life on his own account as 'a little labouring hind' in the service of Murdstone and Grinby, wine merchants at Blackfriars.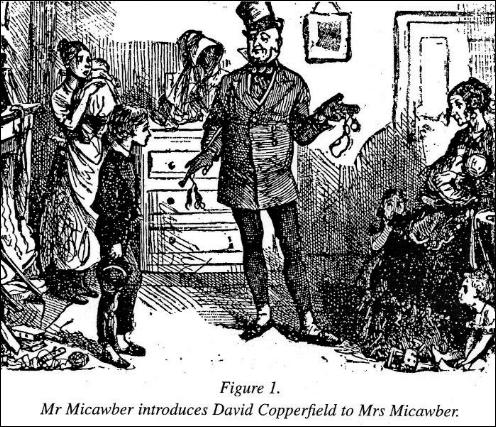 But Micawber and his family are no literary invention. Dickens found the prototype for this larger than life eccentric in York on one of his visits to see his younger brother, Alfred Lamert Dickens. In 1845 at the age of 22 he was Resident Engineer at Malton, supervising railway construction for the contractor, John Cass Birkinshaw. Alfred Dickens lived at first at Hillside Cottage, Malton, but after his marriage on 16 May 1846 to Helen, the daughter of Robert Dobson, the stationmaster at Strensall, he lived for a time in York where he was visited by his elder brother in December 1847. After Birkinshaw was appointed Consulting Engineer to the Malton and Driffield Junction Railway, authorised in 1846, the younger Dickens moved to Derwent Cottage, Norton, to be nearer to the work site and his office in the Market Place at Malton, from which he provided the local supervision for the construction and completion of the line. (1)
John Cass Birkinshaw was a Northumbrian railway engineer, born in Bedlington in 1811, the son of John Birkinshaw, principal agent of Bedlington Ironworks and patentee, in 1820, of the malleable iron fish-bellied rail. He was the first articled apprentice taken by Robert Stephenson after he returned to England from South America. On completing his articles Birkinshaw became Resident Engineer for various Stephenson railway projects as well as working with Thomas Cabry, who was eventually to become Engineer of the York and North Midland Railway (YNMR), on the construction of the Canterbury and Whitstable Railway. Thus well known to both the YNMR's Engineer and its principal contractor, John Cass Birkinshaw was appointed in 1844, with Robert Stephenson, joint engineer for the York to Scarborough branch of the YNMR. (2) At his office at 29 (present 71) Micklegate he employed a clerk, one Richard Chicken, 'an indescribable character of faded gentility', (3) whose domestic circumstances were such that they apparently could not be supported by his income. He often had to resort to writing extraordinary begging letters to all and sundry. For a period Chicken and his wife were caretakers for the office, living in the apartments above. (4) Charles Dickens must have learnt of this remarkable character through his younger brother and may even have met him or, at least, seen him in the flesh, on one of his visits to York. With such inspiration Chicken was immortalised as Wilkins Micawber in David Copperfield, his favourite and often autobiographical book, first published in monthly parts in 1849 and completed in the autumn of 1850. Micawber, like his real counterpart, had a 'passion for writing letters too strong to be resisted', relishing the 'formal piling up of words'. He would have written 'letters by the ream if it was a capital offence.' (5)
Richard Chicken was born in York on 6 August 1799 and was baptised on 14 August following in St Michael's, Spurriergate. He was the only son of Nicholas Chicken, who came from Blades in County Durham and was a wine merchant in partnership with William Harrison in Harrison & Co. of Low Ousegate. His mother was Elizabeth Huddleston of Pocklington, the daughter of the steward to the Denisons of Kilnwick Percy. After the death of his partner in 1799, Nicholas Chicken succeeded him as Surveyor of Windows and became Surveyor of Taxes for York in 1805. Such was his standing in the city that he was elected a Chamberlain in 1804 but, as he was not a freeman, he was ineligible to take up the post. At the time of his death in October 1809 he was living in Ivy House in Fishergate. Nearly two years later, in February 1811, his wife commenced business as a wine merchant herself. Her son, however, had been sent to the celebrated Bingley Grammar School which was then under the headmastership of Dr Richard Hartley, 'an excellent classic, a hard reading man, and of irreproachable character'. (6) After three years there young Richard was given a clerkship in the Ecclesiastical Court in York. This profession was not of his own choice, he had not been consulted about it and was placed in it by his father's executors. He would have preferred the Temporal Courts and mourned over the wasted five years and 'the useful money misapplied in my Articles and keep'. (7) He was still occupied in this career in August 1819. (8) Mr Micawber, too, entered the legal profession when he went to Canterbury to work for Uriah Heep as a confidential clerk, a post which he found, as a wordsmith, somewhat limiting. 'To a man possessed of the higher imaginative powers the objection to legal studies is the amount of detail which they involve. Even in our professional correspondence the mind is not at liberty to soar to any exalted form of expression.' (9)
He was also to lament leaving his next occupation as an itinerant actor, when, for some years, he was attached to a company of players connected with the Theatre in Nottingham. (10) His acting career started in York on 1 April 1824 when he made his first appearance on the stage of the Theatre Royal as Dr Ollapod, an eccentric apothecary, in the prophetically titled play. The Poor Gentleman, a comedy by George Colman. This was a firm favourite in the York repertoire, being performed regularly every year, even with a female in Chicken's part in 1823! His first acting endeavours were not received with acclaim.
Mr Chicken, who is an amateur of this city, cannot be said to have been very successful. He has much to learn and to unlearn, before he can attain eminence in his profession. He misplaces the h's terribly, his utterance is too rapid, and much of the dialogue was lost from his speaking in too low a tone. If he will attend to these points we have no doubt but on a second representation he will succeed much better. (11)
He was given a second chance to show his mettle three weeks later. On 22 April he played the part of Valcour in Point of Honour, or The Noble Deserter. Durimel, a deserter from the army, is sentenced to be shot for his crime.
The fatal moment approaches. The handkerchief is tied over his eyes, where through the generous interposition of Valcour (a gay officer) a pardon is obtained and Durimel is restored to life, love and happiness. (12)
With an obviously successful performance behind him he was allowed, on 22 May 1824, 'as was customary', a benefit night, a system on which actors depended to a great measure for their daily bread. On this occasion, again at the Theatre Royal, he played Count Cassel in Lovers' Vows by Mrs Elizabeth Inchbald having beforehand, in the columns of the press, 'respectfully' acquainted 'his Friends and the Public' of the importance of the event. Tickets could be obtained directly from him at the establishment of Mrs Mary Harris, a haberdasher in Pavement. (13)
How long he persevered in the theatrical profession is not known but, using the experience gained on the stage, he next tried to make his living as a teacher of elocution, giving himself the grandiose title of Professor of Elocution and Lecturer on Defective Enunciation, after having first served his apprenticeship as a travelling assistant to Professor Sams, a lecturer on the latter subject. When he had elevated himself to a full professorial chair he announced in the York Herald that he was preparing for publication a Treatise on the Harmonic Principles of the English Language and the Beauty and Correctness of its Prosody. It was to be dedicated to Robert Denison of Kilnwick Percy for whom his maternal grandfather had worked. Although 40 subscriptions had been promised, including one from the Archbishop of York, Edward Venables Vemon Harcourt, it was never published. (14)
He was living in Beverley in 1834, (15) but by February 1840 he had returned to York and had set himself up as Master of Swan Street School in Clementhorpe, where he lived for a time before moving to 26 St Mary's Row (later 4 Victor Street but since demolished), Bishophill, opposite the Golden Ball. To supplement his income he informed
the Public that he will be happy to render his services to those who need them. The system [of curing Defective Utterance] is founded on Anatomical Principles – is unconnected with any other – and capable of producing a Cure in all cases where there is not any physical defect existing. N.B. Private Instruction also given in Reading and Delivery. (16)
It was while living in St Mary's Row that he changed his profession once again, becoming a clerk in an office by 1847 (17) before moving to John Cass Birkinshaw's office in Micklegate in 1849. However convenient his home in Bishophill was for his new employment he was shortly to move to Layerthorpe, on the opposite side of the city, after a short period living above the office. His new home was first in Layerthorpe Buildings and then at 31 Bilton Street, the very end house on the right hand side of the long and 'nasty road' adjoining the field, the Brick Croft. (18) It had a frontage of 14ft 2ins and there were two living rooms on the ground floor with two bedrooms above them. A small scullery protruded into the yard behind which also housed the usual offices. (19) Was this move away from the convenience of Bishophill an indication that Richard Chicken's income had fallen to such a degree on entering John Cass Birkinshaw's office that he could no longer afford the rent or was the house too small for his growing family?
John Cass Birkinshaw closed his office in York in 1852, on his move to London, and Chicken was once again without employment. Birkinshaw having rejected him, Chicken now turned his attention to the Lord Mayor of York. For his rent he had been reduced to begging from the citizens of York who had provided £1 12s 6d, but he required a further 7s 6d to meet his current liabilities to his landlord, whose attempts to collect what was owing could be frustrated no longer. Rather than be entirely dependent on the benevolence of the Lord Mayor, Chicken sought some employment in his office 'however tedious and irksome'. He would be willing to execute errands or 'whatnot'. He was to be relied on. 'Chicken and punctuality are synonimous [sic] terms.' Hecould 'vie with Pythagoras for sobriety and with Scipio for continence,' allusions learnt, no doubt, at Bingley Grammar School from its headmaster, the 'excellent classic.' In the same letter he followed a precept already put into his mouth by Charles Dickens, the expectation that something would turn up. He mentioned that his wife's mother had died, her Inn at Doncaster had been sold for £775, there was still a dwelling house and two gardens to be sold by private contract after which Louisa Chicken and her two sisters would 'drink the inheritance'. There appeared, however, to be a chance that this expectation would not be realised as her brother, James Alexander, was 'sordid, mercenary, avaricious and griping', with his heart in the world and the world in his heart. Ever the master of the postscript Chicken, with a final sting, asked the Lord Mayor 'Do you think. Sir, that you have a Coat or Trousers in reversion? His son, Quintus, was sent to call at the Mansion House at 9 o'clock the next morning, on his way to the station, to pick up any charity extended to his father. (20)
Through the good offices of Alderman Richard Evers a situation was found for him, not in the Mansion House but on the YNMR in the Goods Abstract and Numbers Takers Offices, which at that time were under the control of Robert Walter Bailey, who became the Goods Manager of the North Eastern Railway (NER) on its formation on 31 July 1854, and a Mr Benson. (21) These two gentlemen reported to Alexander Clunes Sheriff, Goods Manager of the YNMR and Traffic Manager of the NER. Chicken commenced his new employment in September 1853 and, with his fellow clerk, Smith, his duties were concerned with preparing, for onward transmission to the Railway Clearing House (RCH), returns of serial numbers of goods vehicles entering and leaving YNMR territory. From this information the RCH, which was founded by the various railway companies in 1842, calculated the transit charges to be made to the owners of goods wagons for using each company's track. On the formation of the NER the Numbers Takers Office came under the control of a Mr Cowburn and he saw a way of relieving himself of a thorn in his flesh as well as saving the company some expense. Chicken and Smith were replaced by two juveniles who could accomplish the same duties for only a few shillings a week. To add insult to injury Richard Chicken was discharged, without any reason being given, on 24 June 1854, but alternative railway employment was found for Smith. (22)
Chicken could not conjecture why he was 'thrown on his beam ends'. He was always 'attentive and diligent' to his appointments, having been 'diligent punctual and obliging', and if he had erred it was in 'judgement and not design'. (23) He had, however, written several notes to Mr Sheriff in the last two months of his employment requesting an appointment where he might have more exercise and less restraint as he was suffering from 'disease in the region of the heart' and could put in a Medical Certificate to this effect if one was required. Close application to the desk with its accompanying contraction of the chest operated against him. (24) It did occur to him that Mr Sheriff might have been annoyed by these notes but in writing them, he declared, he 'had none but a pure and legitimate object in view', and as he was a creature of Circumstances and had acted under impulse he hoped that he would not be visited with displeasure on that account. He added a postscript, which must have annoyed Mr Sheriff ever further, to say that he had addressed a note to George Hicks Seymour, a director of, first, the YNMR and then the NER, who had known Chicken for many years, requesting him to use his influence with Mr Sheriff on his behalf. (25)
At the time of his dismissal Mrs Chicken was 'confined of her eleventh child and in a delicate condition' so the event operated 'doubly against her, producing restlessness and anxiety'. (26) He had married Louisa, the daughter of John Alexander of Doncaster. She was baptised in Doncaster on 25 July 1813 and their first child, a son, Alexander Jordan, was baptised in Beverley Minster on 6 September 1834. Thereafter she gave birth at regular intervals for the next 23 years. The next two children, Gustavus, born 22 April 1836, and Nicholas Huddleston, born 13 January 1838, were born before the Chickens returned to York and were not baptised until the fourth child appeared on 13 January 1840. All three were baptised together at St Mary Bishophill Senior, on 23 February 1840. Judging by the date of birth of their first child, Richard and Louisa Chicken were married in or before 1833. However, in an undated letter he reminded his correspondent that they both pledged their vows at the 'hymeneal altar about the same time as our Gracious Sovereign'. (27) As Queen Victoria married Prince Albert of Saxe-Coburg and Gotha on 10 February 1840 the implication of this remark is that he had only made Mrs Chicken an honest woman after the birth of their fourth child. No record can be found for this event. Civil Registration had started in 1837 but the Chickens were very cavalier in their attitude to the requirements of the Registrar-General. In addition to the possible marriage in 1840 none of the births of their children was registered until that of their sixth child, in January 1844. There is, however, reason to believe (see Appendix 2) that this letter was not written by Richard Chicken.
By the time of the triple christening in 1840 Richard Chicken must have realised that he was to be the progenitor of a large family and that remembering the order of their birth would be a problem. Accordingly he decided to give further boys appropriate names. The fourth boy was christened Jesse Quartissimo and the fifth, born 12 February 1842, Quintus Gilbert. He was followed by four girls, Louisa Adelaide, born 11 January 1844, Lavinia, baptised 12 October 1845, Rhoda, baptised 4 October 1847, and Dorcas, baptised 26 August 1849, all at St Mary Bishophill Senior. The sixth boy and tenth child, Sextus Bethill, was baptised on 23 August 1851 at St Cuthbert's, as were the final two children, both girls, Amelia on 24 June 1854 (the day of his dismissal by the railway company) and Lydia on 22 February 1857 (see pedigree, Appendix 1).
It might appear that, with such a large family, the Chickens only had themselves to blame for the parlous state of their finances. However seven died in childhood, four within six days of each other and another only 16 months later. Their tragic demise was recorded on a gravestone that once stood in the churchyard of St Mary Bishophill Senior, on the east side of the porch, close to the footpath and, uniquely, the inscription was on its south face and thus could easily be read by passers-by on the road. It has since been lost, perhaps when the church was demolished in 1961.
In Memory of
Alexander Jordan, Gustavius,
Nicholas Huddlestone,
sons of
Richard and Louisa Chicken
aged respectively 11, 9, and 7 years,
who all died on the 13th June, 1845,
of pestilential fever:
also
Louisa Adelaide, sister to the above, aged 18
months,
who expired
on the 19th of the same month
under a similar attack,
and on the 24th October, 1847
Jesse Quartissimo Chicken
aged 7 years.
Quintus was indeed fortunate to be the sole survivor of the pestilence. Of the final six children born after its visitation, Rhoda was also buried in the churchyard in 1854, aged six, but when Amelia, the last to succumb, died of scarlet fever in 1863 at the age of nine she was buried in a public grave in York Cemetery, the parish graveyards in the city having been closed by Order in Council in December 1854. Although Richard Chicken had once commented, if the letter concerned is taken at its face value, that he had not 'kept pace with her Blessed Majesty in progeny', (28) his total haul was twelve between 1834 and 1857 exceeding the Queen by three. The royal progeny were born between 1840 and 1857 so that at all times the Chickens had more children than Victoria and Albert. Their failure to keep pace can only have been achieved if they discounted the five children who had died by 1847.
But to return to the days following Amelia's christening and Richard Chicken's dismissal from railway employment, he continued a letter-writing campaign to various members of the railway management which he had started even before he was fired. On receipt of the Notice of his Discharge he wrote to Mr Wilson, Mr Sheriff's clerk, hoping that the verdict would be reconsidered, as no charge was stated against him, his fellow clerk, Mr Smith, was being retained and, finally, as he had a young family which he 'hourly expected to be increased'. Further letters to Mr Sheriff followed, one on 24 June and a further two by 28 July 1854, the penultimate written 'with a conscience void of offence' as regards his past service at the railway, and he could not 'but exercise faith as to its result'. (29) This faith was not surprisingly misplaced so the next shot in the battle was fired on 4 January, this time by Mrs Chicken, no mean correspondent herself, passing over Mr Sheriff's head with a letter to none other than the General Manager of the NER, Captain William O'Brien who was, in Mrs Chicken's words, 'occupying some important appointment'. She had presumably taken this step because, in the words of her literary alter ego, 'I may be superstitious but it appears to me that Mr Micawber is destined never to receive any answers whatever to the great majority of the communications he writes'. (30) Mrs Chicken hoped that a wife and mother's anxiety was sufficient excuse for her intrusion and she told Captain O'Brien that Alderman Evers had had an interview with George Leeman, a director of the NER who was shortly to become its deputy chairman, in which he was told that Mr Sheriff had been instructed to re-engage her husband. (31)
A fortnight later Richard Chicken rejoined the fray with another letter to Captain O'Brien asking for a situation at the railway. He considered that he had sufficient education for most departments, he would probably be most at home as a corresponding clerk, but in his straitened circumstances he was content to be 'a hewer of wood and a drawer of water'. The feud with Mr Sheriff that led to his dismissal was mentioned. He also said that Alderman Evers had told him that Mr Sheriff was annoyed by two notes he had received from him, one asking for an advance of salary and the other for a change of department. He found it impossible to imagine that a gentleman of Mr Sheriff's attainments should have turned vindictive. He had been 'on the Shelf ever since he left the railway and was beginning to 'rust' and his family to 'suffer'. In the hope of a favourable reply Chicken had asked his twelve-year-old son Quintus, who, despite his father's problems there, was now working in the Goods Office, to call on Captain O'Brien the next day to find out if the General Manager had arranged a time for an interview' to discuss the grievances. (32)
Inevitably and not unexpectedly, it appears that the General Manager supported his Traffic Manager as Richard Chicken's final shot in the affair was directed to the supreme authority, the board of directors of the NER, on 1 June 1855, one of its meeting days, when he ventured to appear before it 'on paper'. His letter, from a petitioner asking for favourable consideration, was by no means conciliatory. Mr Sheriff was accused of sacking him as the result of 'a frivolous and groundless accusation and that charge proves his prejudice and the prejudice is evidence of his illiberality'. As an afterthought he added that he had been told by one high in office that asking Mr Sheriff for a post would amount to nothing. 'To succeed, the Directors (or a director) must require their manager to employ me'. Needless to say the Directors had no sympathy and Richard Chicken remained unemployed and, perhaps, with the reputation he had gained, unemployable. (33) No replies to his letters still exist. Whether or not the railway company deigned to reply to his continuous bombardment of letters is thus uncertain but Mr Micawber was often ignored in similar circumstances. 'He cannot get into those firms which decline to answer his letters, when he offers his services even in an inferior capacity' (34) as a 'hewer of wood or a drawer of water'.
After his father's failure to be reinstated in his railway employment Quintus seems to have become the family's principal breadwinner, working quite extraordinary hours to sustain his parents and his five surviving siblings. On 6 August 1857, his 58th birthday, Richard Chicken wrote to Mr Wright, the cashier of the NER, to ask if Quintus, now aged 15, could have 8s 0d to enable Mrs Chicken to indulge him 'with something nicer than ordinary fare' on the anniversary of his natal day. To lend weight to his request Chicken mentioned that Quintus had not left the office until 40 minutes past midnight and reached home 30 minutes later. In the certainty that Mr Wright would meet his request he proposed to send for the advance in wages at 10 o'clock. (35) Shortly afterwards three-year-old Amelia caught scarlet fever, the disease to which she was to succumb in 1863. As 'sickness always involves expense in a household' Mr Wright was requested for another advance of 8s 0d on Quintus's wages thereby increasing 'the vast obligation I am already under to you as Cashier'. (36) Just before Christmas in the same year Mrs Chicken received a letter from her daughter, presumably Lavinia who was then aged 12, asking for money to pay her fare home when her school broke up on 15 December. One wonders where the money to pay for her fees had been found. While Mrs Chicken had not intended to ask for any more of Quintus's wages she now required another 6s 0d or 8s 0d on account. There was, however, some hope that she would be 'a little better off when the New Year puts in'. Richard Chicken was working at the Castle, apparently in a temporary post, as he did not get paid until he had finished. (37) At this time the Castle contained both a prison and the Assize Courts for Yorkshire. Perhaps Richard Chicken had reverted to his original profession and was employed as a legal clerk at the court.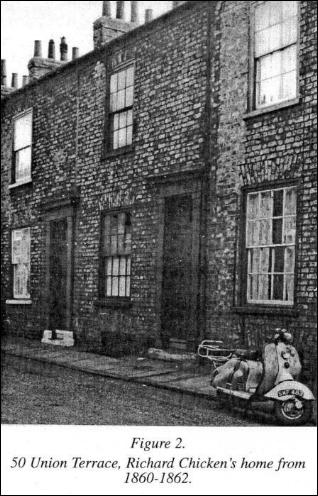 His fortunes seem to have taken a turn for the better at this time as he was able to move his family from 31 Bilton Street to 50 Union Terrace, a much more prestigious address (Figure 2). The new house was similar to the old one, two up and two down with a scullery at the rear, but it had the advantage of both cellars and attic, although the upper staircase was later considered to be steep and dangerous. (38) The Chickens had moved in by 25 July 1860 when Richard Chicken paid his quarter's rates of 6s 5½d in full. These were charged at 10d in the pound on a rateable value of £7 15s 0d. His rental at this time was 3s 8d a week or £9 10s 0d a year. (39) But once again he was cast down on to his own resources, this time by illness. Shortly after he had moved into his new home he was struck by 'a species of physical declension' which after nine weeks and a weight loss of 17 lbs had assumed so serious an aspect that he did not anticipate a recovery. He became an out-patient at the County Hospital and, while he was supplied with an abundance of medicine, the necessity of supporting a wife and five children meant that he was unable to build himself up with Mutton Chops and Porter as the doctors had recommended. Had he been admitted as an in-patient he would have had the advantage of the House diet. He was thus left with no alternative but to write some begging letters to seek 'a trifling pecuniary aid towards assuaging my sufferings'. One such letter in October 1860 was sent to the office of William Hudson, Registrar of the Prerogative Court in York. If Joseph Buckle, Hudson's partner who had died in 1853, had still been alive he knew his appeal would not be in vain. Nevertheless he sent his son Sextus (Quintus was no longer living at home) to pick up any consideration that might be offered. (40) Now unable to work he fell back on another of his previous occupations, curing Stammering and Defective Utterance. He advertised in January 1861 that at his home he would give 'EXERCISES for counteracting and removing the above named impediments; also LESSONS in READING and DELIVERY'. (41)
From this time he went into a decline from which he was never to recover. Mrs Micawber said on many occasions that she would never desert Mr Micawber but this example cut no ice with Mrs Chicken. She and her children had been disgraced by her husband for a long time. He had gone so far as to take the bread out of their hands so that he would not go hungry himself and she had no clothes to wear, not even a dress or a shawl. Late in 1862 she ejected her husband from their home and he had to seek aid from the 'Parishosial' authorities. (42) On 24 January the Poor Law Union Guardians, defining Richard Chicken as an able-bodied but destitute clerk, agreed to rehouse him in the model lodgings in Barker Hill (now St Maurice's Road). He continued to be regarded as able-bodied until 24 April 1864 when, not only was his deteriorating condition noted, but also a change in his marital status to widower. Mrs Chicken, though still alive, had been forsaken. (43)
Before leaving his home in Union Terrace Richard Chicken had pawned his wife's spectacles but she had been able to redeem them from the pawnbrokers on 22 January 1863. Even without the burden of her husband Mrs Chicken could not afford to remain in the Union Terrace house and moved back to her old home at 31 Bilton Street and, thus, inadvertently entered a modem controversy. It has recently been disputed that the old bridge between Layerthorpe and Peasholme Green was never called other than Layerthorpe Bridge but she referred to it as Peasholme Green Bridge. The rent in her Bilton Street house was two pounds less and there were no taxes. She hoped to let a bedroom and sitting room to a railway clerk or two, which would have meant that she and at least three children would have to have squeezed into the other two rooms. Now on her own it was her turn to write the begging letters in support of the five children looking to her for their daily bread. This was somewhat of an exaggeration as Lavinia, aged 17, was working as a governess and Dorcas, aged 13, had been placed with a milliner for two years. From Mrs Margarette Hudson, wife of William Hudson, she sought and obtained some sewing work but she also asked her for warm frocks and a pair or two of castaway boots for the two younger daughters who, for the want of them, had been virtual prisoners in the house for so long. Further help came from the Ladies Friends School who sent her sheets for turning at 6d a pair. (44)
Richard Chicken's health continued to deteriorate and by January 1865 he had been admitted to the Union Workhouse in Huntington Road under the mastership of John Wilson, great-grandfather of a future prime minster, Harold Wilson. He did not expect to come out of it alive as 'the Confinement and the Society' would kill him. His final postscript summed up the hopelessness of his situation: 'The society of idiots, the ignorant, the profane, is not adapted to me - poor Chicken'. Undeterred he continued to seek assistance from the clerks in Hudson's office, asking for coffee, sugar and a little tobacco to sustain him. He could not eat the porridge which was served for breakfast and supper every day. On 22 January 1866, a year later and still in the workhouse, Richard Chicken, with his wife at his side, died of paralysis at the age of 65. The next day he was buried in York Cemetery in a public grave. This cost 4s 6d but there was an additional charge of 4s 6d for the use of the cemetery hearse, which could carry both coffin and mourners. In the register his profession is shown as 'Procktor's Clerk'; all his other occupations have been ignored as he returned to his calling of more than 40 years previously. The cemetery normally expected payment at the time of burial but they had to wait over three weeks before their bill was paid. Mrs Chicken was unable to pay the required amount until she was sent a sovereign by Thomas Greenwood Clayton, an old school fellow from Dr Hartley's school at Bingley who used to stay with the Chickens during vacations. Clayton, who by a strange coincidence had only recently bought the Hudsons' house, Ousecliffe, Clifton, when he moved to York from Bessingby Hall, was the only person from Richard Chicken's youth to befriend him to the last. (45)
Mrs Chicken had moved to 75 Camp Road, Leeds with her family in June 1865. As well as taking two clerks as lodgers she went one stage better than Mrs Micawber. That lady had, on the front door of her house at Windsor Terrace, a great brass plate on which was engraved 'Mrs Micawber's Boarding Establishment for Young Ladies' but no young ladies had ever been to school there or even proposed to come. (46) Mrs Chicken did have pupils and was 'getting on comfortable' but then in March 1866 tragedy struck. She was attacked by typhoid fever which terminated in rheumatic fever. The school was broken up and the lodgers left for fear of infection. On her recovery she was going to have the place thoroughly cleaned down before the children returned to the school. As she was quite out of money she pleaded with Mrs Hudson for a little assistance. Even a few stamps would help. (47) This is the last that is known of the long-suffering wife of Richard Chicken until her death at 69 Cardigan Lane, Burley, on 15 February 1883. (48) No doubt she had continued to suffer the vicissitudes of life, something always turning up to rescue her from her current difficulty. Life had not dealt her a fair hand but she survived its trials for 69 years.
That her husband was the prototype for Wilkins Micawber has been widely accepted. Richard Chicken's orotundity of speech, his circumlocutions, his use of letters in his attempts to relieve his poverty, and his variety of professions and qualifications would all have commended him to Charles Dickens, who selected the relevant characteristics to form the eccentric and immortal gentleman who makes occasional and welcome appearances throughout David Copperfield. Even his Christian name, Wilkins, has a York origin. During the early years of the 19th century it was a common slang name given to persons who were hard up or gave the appearance of poverty. It has its origin in Major Wilkins, an 18th century centenarian who was imprisoned in York Castle for 50 years for debt. His name became a byword in the City and was applied to anyone in similar straits. (49) The only doubting Thomas in the association of Richard Chicken with Wilkins Micawber was Gilbert Hudson who had not been pleased with T.P. Cooper's use without acknowledgement of the letters Chicken had sent to his grandmother. On a page in his copy of The Real Micawber he wrote
There is little essential resemblance between Micawber and Chicken, whose general habits and appearance are more suggestive of Jingle. But such characters - 'oddities' - were far more common in those times than even a single generation ago, especially in old country-towns. The 'idea' of such characters was common in the imagination of the age. An author need not have modelled one upon any one actual example.
Even if he is right Richard Chicken was an eccentric York character in his own right and one whose memory is worth preserving.
NOTES
1. T.P. Cooper, The Real Micawber (1930), 15-19; W. Fawcett, History of the York – Scarborough Railway (1995), 10 and 13.
2. J. Marshall, A Biographical Dictionary of Railway Engineers (1978), 31.
3. R. Willis, Portrait of York (1972), 78.
4. Yorkshire Gazette, 11 February 1899.
5. C. Dickens, David Copperfield, chapters 49 and 51.
6. J.A. Venn (comp.), Alumni Cantabrigienses Part II Vol. 3 (1947), 272.
7. Letter 1.
8. Richard Chicken's signature appears on the Marriage Licence of William Clarkson and Elizabeth Caukwell issued on 7 August 1819.
9. C. Dickens, David Copperfield, chapters 36 and 39.
10. Letter 13.
11. Yorkshire Gazette, 3 April 1824.
12. York City Library, Playbill.
13. York Courant, 18 May 1824.
14. R. Grundy Heap, Georgian York (1937), 109; Yorkshire Herald, 26 March 1842.
15. Registers of St John's, Beverley.
16. Yorkshire Gazette, 26 March 1842.
17. Teacher in F. White & Co., General Directory of Kingston-upon-Hull and the City of York (1846), 277; Clerk in an Office, Parish Register of St Mary Bishophill Senior, 4 August 1847.
18. Letter 14.
19. York City Archives, Ace. 157, Clearance Orders 1939 and 1959.
20. Letter 1.
21. Letters 3 and 8.
22. Letter 3.
23. Letter 3.
24. Letter 2.
25. Letter 4.
26. Letter 4.
27. Letter 19.
28 Letter 19.
29. Letters 3, 4, 5 and 6.
30. C. Dickens, David Copperfield, chapter 36.
31. Letter 7.
32. Letter 8.
33. Letter 9.
34. C. Dickens, David Copperfield, chapter 28.
35. Letter 10.
36. Letter 11.
37. Letter 12.
38. York City Archives, Acc. 157, Box 44.
39. York City Archives, Acc. 7, Rate Books for Parish of St Giles.
40. Letter 13.
41. Yorkshire Gazette, 26 January 1861.
42. Letter 15.
43. York City Archives, Acc. 2/812, 2/813, 2/816 and 2/817.
44. Letters 14, 15 and 16.
45. Letter 18; York City Archives, Acc. 107.2, York Cemetery Cash Books.
46. C. Dickens, David Copperfield, chapter 11.
47. Letter 18.
48. Yorkshire Gazette, 24 February 1883.
49. Yorkshire Gazette, 22 February 1899.
Appendix 1: Pedigree of Chicken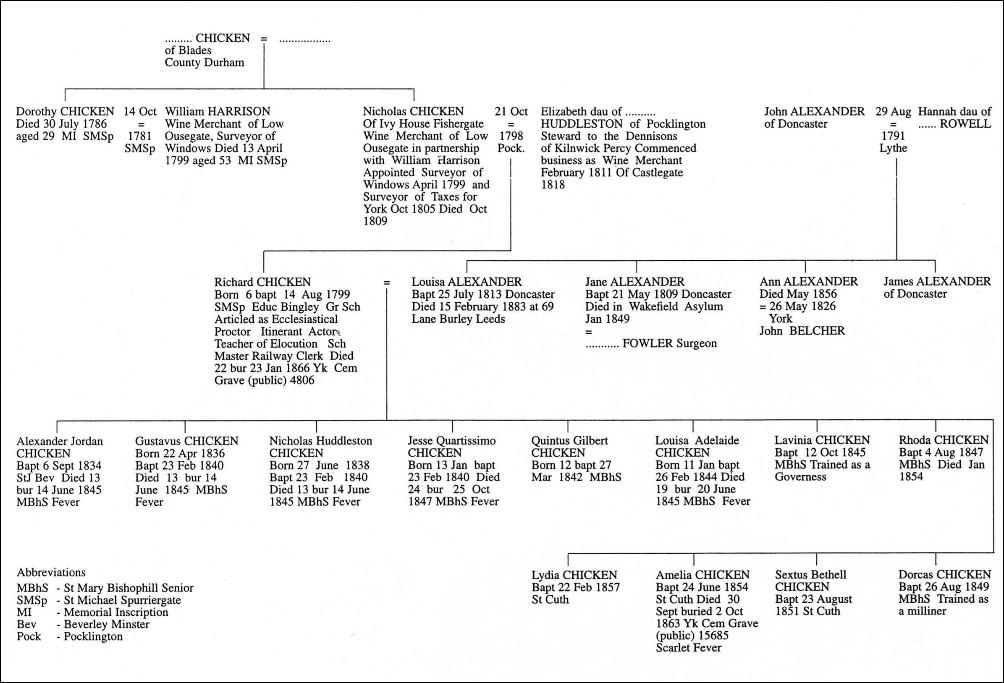 Appendix 2: Richard and Louisa Chicken's Letters
Letters 1-12 have been transcribed from a small vellum-bound booklet in the possession of Mrs Brenda Gingell. It came from the home of her great-grandfather, Robert William Gregory, a teacher of calligraphy and an illuminator of books and, possibly, a contemporary of Richard Chicken. However, as the document is type-written it must have been compiled at a more recent date. These letters were known to T.P. Cooper who quoted from them in part or in full in The Real Micawber (1930). Cooper also used extracts from some of the letters, 13-18, the originals of which are now in Stoke Newington Library. They were deposited there by Gilbert Hudson of Berkhamsted, son of Henry Arthur Hudson (1841-1911) of Fishergate Villa, Registrar of the Diocesan and Probate Registries at York and grandson of William Hudson (1797-1864) of Ousecliffe, Registrar of the Prerogative Court. They are addressed to his grandmother, Margarette, who died in 1871. Gilbert Hudson was annoyed with Cooper's use of the letters. He wrote in his copy of The Real Micawber 'The author seems to have carefully avoided naming the sources from which he had the letters and from expressing any kind of gratitude for the same: a reticence perhaps characteristic at once of a 'local' and uneducated mind'. Letter 19, quoted in full in The Real Micawber and in Georgian York (1937) by R. Grundy Heap, contains two inconsistencies relating to the date of Chicken's marriage and the number of his children compared with the royal family (see above). Additionally Dickens put the phrase 'Hymeneal altar' in to Mr Micawber's mouth and gave Mrs Micawber the habit of wearing brown gloves (David Copperfield, chapter 28). It is possible that this letter has been produced by some other hand wishing to add to the Chicken/Micawber canon.



1. To the Right Hon. the Lord Mayor [ 1853]

May it please your Lordship
Sabbath as it is I must devote a few moments of it to address you. In an emergency it is lawful 'to take the show bread' Works of mercy and necessity may be performed on the Sunday 'the Priests denied the Temple on the Sabbath and were blameless'.
'The night is far spent: the day is at hand' I have frustrated as long as I can my Landlords intention who will tarry no longer. The Citizens have just made One pound twelve and sixpence for me so that now require 7/6. Pray exercise your benevolence towards me at this time if it be your first and your last.
Let me experience at your hands that feature in the body of Charity designated Almsgiving. I want some employment, anything however tedious or irksome is better than dependence. Can you work me in your office occasionally to execute errands or what not? I am to be relied on. Chicken and punctuality are synonimous [sic] terms.
I can vie with Pythagoras for sobriety and with Scipio for continence.
I worship with the Methodists, and joined that body when I was with Mr Birkenshaw, I have been attached to them since boyhood, ever since I was trained by my Grandmother at Pocklington at the time my Grandfather was Steward to the Denison's of Kilnwick Percy. In a temporal point of view, I mourn over the most over the five years I wasted in my Clerkship in the Ecclesiastical Court. Precious time was wasted and useful money misapplied in my Articles and keep. The profession was not my own choice, as I was not consulted but placed there by my Fathers executors. I should have preferred the Temporal courts.
I lament leaving the stage.
There I was composee, if not happy but my delicate constitution gave way under the fatigue of being an itinerant Actor.
In the early part of next year we may be in more easy condition, as my wifes mother is dead, and part of her property viz; the Inn at Doncaster was sold on the 8th ult, for £775, and there is yet a dwelling house and two gardens to go by private contract, after which she and her two sisters will 'drink the inheritance'. Her brother however sordid mercenary avaricious and griping. His hearts in the world and the world in his heart.

Your humble Servt.
Richard Chicken.

Do you think Sir that you have a Coat or Trousers in reversion? Quintus my son will call at your consideration tomorrow Monday morning as he goes to the Station at 9.




****************




2. June 5th 1854

To Mr Sheriff May it please you sir,
A few weeks ago I ventured (through the medium of Mr Wilson) to bring before you the fact that I have for a considerable time suffered from disease in the region of the heart and that very close application to the desk with its accompanying contraction of the Chest operate against me. My desk work in the Clearing house is from 9 to 6 (without intermission or interval except my dinner hour) and I am really unable to stand it. If you require a Medical Certificate on this point 'I can put one in'.
Under the circumstances if you can give me an appointment where I might have more exercise and less restraint it would be received with appropriate emotion by,

Your humble Servant,
Richard Chicken.




****************




3. To Mr Wilson then Mr Sheriff's Chief Clerk

Sir,
In the absence of Mr Sheriff I venture to acknowledge to you the receipt of my Discharge from the service of this Company.
You signify no Charge against me, and it appears to me a thing unreasonable. As I have been both attentive and diligent to my appointments, I cannot conjecture why I am to be thrown 'on my beam ends'. The system of number taking is not destined to decay, it is still to continue although I believe that Mr Cowburn is to accomplish it a few shillings per week, by employing two Juveniles in the room of Mr Smith and myself.
You must excuse me when I say that I consider myself ill used when I reflect that Mr Smiths services are to be retained in some department whilst I with a young family, which I hourly expect to be increased am to be driven away.
If I had continued in the tranquil employment of Mr Bailey or Mr Benson in the Goods Office this would not have occurred. Why was I transplanted and why am I now to be rooted up?
I hope that Mr Sheriff will reconsider his verdict, and allow me to tarry. The circumstance of my discharge will cause those Gentleman to wonder, through whose influence with Mr Sheriff I obtained my first employment.

I am, Yours respectfully,
Richard Chicken.




****************




4. June 24th 1854

To Mr Sheriff,

May it please you Sir,
In pursuance of my Discharge I quitted the service of the Company on Saturday, but as no charge was brought against me I cannot conjecture the grounds of my dismissal, and I am now perplexed when I consider that my late fellow Clerk (Mr. Smith) to be retained.
In the several departments in which I have been engaged since I entered the service of the Company in September last I have been diligent, punctual and obliging, and if I have erred it has been in judgement, not design.
Cast on my resources at this juncture when my wife is confined of her eleventh child, and in a very delicate condition the event operates doubly against her, producing restlessness and anxiety.
It may be that you have been annoyed by the several notes, which I have addressed to you within the last two months but I declare that I had none but a pure and legitimate object in view, and as I am a creature of Circumstances and act under such impulse, I hope that you will not visit me with displeasure on that account.
If not for my own sake, at least in consideration of my family, I venture to hope that you will consider to offer me an appointment in some department which you may think adapted to me.

I am. Sir, Your humble Servant,
Richard Chicken.

I have addressed a note to Mr Seymour (who has known me for many years) requesting his influence with you in my behalf.




****************




5. To Mr Sheriff

May it please you Sir,
Under a pressure of circumstances, which none can estimate but those who have passed through similar experience, I venture once more to ask if you can select a place of some kind for me, no matter how subordinate.
In this instance I appeal to your sympathy, inasmuch as we are in comparative destitution, and I have a wife slowly recovering from her eleventh confinement together with three children under five years of age.
As I write this 'with a conscience void of offence' as regards my past services at the Railway, I cannot but exercise faith as to its result.

Your humble Servant,
Richard Chicken.




****************




6. Bilton Street July 28th 1854.

A reply under any result, will be an obligation.




****************




7. Bilton Street, Layerthorpe, York Jany 4, 1855

Mr O'Brien,

Will you allow a wife and mothers anxiety to plead my excuse for this intrusion? My husband was for several 'years with Mr Birkinshaw Engineer to the Railway Company whose service he quitted when that Gentleman closed his offices. He has since been engaged at the Station on the goods Department, which he left last Summer owing to the introduction of some innovations, and he has been out of an engagement ever since. Alderman Evers who when Lord Mayor obtained a situation for him at the Railway, he informed us a fortnight ago that he has had another interview with Mr Leeman on his behalf who had requested Mr Sheriff to have my husband re-engaged as soon as it could be affected, as we have had no tidings on the subject, and learning that you Sir, are now resident here occupying some important appointment, I take the liberty of asking if you can be instrumental in helping my husband to an engagement. He is a Native of this City where his Father was an Inspector of Taxes, and has been known for many years both to Alderman Evers also to Mr Seymour and Mr Price who are Directors. Owing to the long time he has been out, we are exposed to, and exercised by very harassing privations. If you can render us any service I shall be correspondingly grateful.

I am, Sir, Your humble Servant,
Louisa Chicken.




****************




8. Captain O'Brien

The position which you occupy at this railway induces me to ask if you can be instrumental in placing me in some situation there? I was indirectly in the service of the Company for three years and a half, as Clerk to Mr Birkinshaw their Engineer, and I have since been in their actual service, in the Goods Abstract and number takers Offices:- the latter of which I left last Summer owing to the introduction of Juveniles, who are now performing the duties at less Salaries. At all events I am not aware that I left on any other ground. No accusation what-ever was made. I was told by Alderman Evers on Tuesday evening last that I had, while at the Station annoyed Mr Sheriff by two Notes:- the one asking for an advance of salary, the other for change of department, and but for which I should have been there. It is impossible to imagine that a Gentleman of Mr Sheriffs attainments, should turn vindictive under such a trifling circumstance, and visit me with a discharge. However discharged I was. The few who know the circumstances utter an interjection of amazement, which will be echoed by the public as it circulates. I have been on the 'Shelf' ever since I left the Railway, and am beginning to rust and my family to suffer. Most of the Directors know me personally, and are acquainted with the former position of our family in this City. Under these circumstances I again ask if you can serve me in the way I have mentioned? I have education sufficient for most departments of the railway, but I should probably be most at home as a corresponding Clerk. I should however be content to be 'a hewer of wood and a drawer of Water'.

I am, Sir Your obedt. Servant
Richard Chicken.
Bilton Street, Jany 19th 1855.

If you please to see me I will call upon you at your leisure, if you can fix a time I will attend to it. My son Quintus who is in the Goods Office will call for your consideration tomorrow Friday, if you please.




****************




9. To the Directors,

Gentlemen,
This being one of your Meeting days, I venture to appear before you on paper once again. My object is to ask you if you will be considerate enough to require Mr Sheriff to place me in some department. I was discharged by that Gentleman through prejudice, but from what cause I am unable to conjecture. I did my duty there, and can afford evidence of that fact if necessary. No Specific charge was made and it appears to me a thing unreasonable to send a prisoner, and not to signify the charges brought against him. Some months ago Mr Sheriff made some remarks to Alderman Seymour respecting me. (A frivolous and groundless accusation and that charge proves his prejudice and the prejudice is evidence of his illiberality.) I left the Station with clean hands, and with 'a conscience void of offence' Mr Sheriff might have 'Mercy' and not 'sacrifice' he was once in obscurity himself.

I am Gentlemen, Your humble Servant,
Richard Chicken.
Layerthorpe, June 1st 1855.

Asking Mr Sheriff if he has a place for me would amount to nothing. I am told by one high in Office. To succeed, the Directors (or a director) must require their manager to employ me.




****************




10. Dear Sir,

As this the 6th of August (the Transfiguration of my birth day being 58) Mrs Chicken wishes to indulge me with something nicer than ordinary fare. We shall therefore be mutually obliged if you will allow Quintus to have 8/- as soon as you conveniently can after receiving this, as I shall send on for it at 10 o'clock.
We marvelled at what has become of Quintus last night as he did not reach home till 10 minutes past 1 this morning when I had got out of bed, and was coming in search of him. He says it was 40 minutes past midnight when they left the office.

Yours truly & obliged,
Richard Chicken,
Augt 6th 1857.




****************




11. Mr Wright, Cashier asking for an advance on account of his son's wages.

Dear Sir,

I am really at a loss how to make the present request as my applications are almost interminable. You know, however that we have had Amelia in the 'Scarlet Fever' and altho' she is now getting better, she still requires many extras, and sickness always involves expense in a household. Pray under existing circumstances do allow Quintus to draw 8/- on account, and increase the vast obligation I am already under to you as Cashier.

Yours truly,
Richard Chicken.

If you grant it, be so good as let Quintus have it between 3 and 4 o'clock.
October 1857.




****************




12. Mr Wright

It was not our intention to ask you any more for Quintus's wages but I have received a letter from my daughter saying I am to send her money for her fare the school breaks up for the vacation on Tuesday. Mr Chicken does not get paid at the Castle till he has finished. As I am pennyless I hope Sir this once you will oblige me with 6 or 8 shillings on account.
I shall be a little better off when the New Year puts in.

Yours obliged,
Louisa Chicken,
Decr 11th 1857.




****************




13. Gentlemen,

For the last 9 weeks I have been suffering from a species of physical declension, which at length assumed so serious an aspect, that it became expedient I should have Medical aid. I consequently became an Outpatient of the Hospital last week. I dont much anticipate a recovery, and am not at all anxious about it, as I have an 'enduring inheritance above'.
Within the last 6 weeks I have lost 171b weight, and go on decreasing. I have an abundance of Medicine from the Institution, but I had much rather have been an Inpatient, as I should then have had the advantage of the House diet. When an individual feeds on drugs, he is soon satiated.
I am ordered generous support, such as Mutton Chops and Porter, but I cant procure them; the wants of my family are too absorbing. I have 5 children at home, two of them under 7 years of age. I do not affect to have any claim upon your regard or sympathy, but you may, perhaps feel disposed to grant me a trifling pecuniary aid towards assuaging my sufferings under the present dispensation for 'auld lang syne'. I am sure that if the late Mr Buckle had been living, this appeal would not have been in vain. It is 'the Actors last Cake.'

I am. Your obdt Servant
Richard Chicken.

I manage to take a little exercise, but am unequal to much locomotion. I will take the liberty of sending Sextus for your consideration in the course of the day.




50 Union Terrace Oct 8th [1860]

When I was a member of the Nottingham Company, they used to tell me, that I looked as if a good dinner would be a memorable event in my history. Body, the light comedian, used to plague me about my lean condition. Poor fellow; he is now in the Actor's Paradise - America.




****************




14. 50 Union Terrace Dec 7th [1862]

Madam,

Although personally a stranger to you I trust you will grant my request if you can also pardon the liberty I take in asking the favour. I have two little girls the size of yours, who have not been out of the house for two months thro' the want of Boots, indeed, they are very scantily clad for the season. Pray Madam allow me to intercede with you for a pair or two of cast aways, or a warm frock for them. We are in great distress and I [have] five children looking to me for their daily bread. Should you have any needlework to put out at any time I should feel grateful if you or Mrs. Hudson would employ me. My eldest daughter has gone out as a Governess, and my second I have placed with a Milliner for two years. I have hard to struggle but it is only for a time.

I remain Madam Your humble sert,
Louisa Chicken.




****************




15. 50, Union Terrace January 23 [1863]

Madam,

I hope you will send me a little more work to commence of on Monday. If you are so kind, be so good as to send me a reel of your nice cotton, those penny ones I purchase are not at all nice for fine work. Mr. C. had walked off with my spectacles some months ago but I have redeemed them yesterday. I am removing into Bilton Street to the house we occupied nine years previous to coming here. There are not any Taxes and two pounds less rent. A nice little Sitting room and Bed room I shall let, if I can meet with a Clerk or two which I shall endeavour to do at the Railway. Mrs. Richardson always said it was a nice house and more convenient than this one, but it was the nasty road to it, and so long a street. It is the first one on the right after passing over the Peasholme Green Bridge. Mine is No. 31, the very end house on the right hand side adjoining the field. Chicken must look out for himself. I cannot work to feed him and my children want. He has even taken bread out of their hands to eat. He says he shall apply to the Parishosial [sic] Authorities, he must do has he pleases. He has disgraced me and my children too long. I only wish I had taken this step years ago. Only give me work Madam. I will do all I can to please and should you find me too far off I will come to you, only, I cannot go out until I have a dress and shawl. I feel even in the house, dirty.

Your truly grateful sert,
Louisa Chicken.




****************




16. Madam,

Pray forgive my importunity in again sending to know if you can supply the two children with Boots. They are fretting, fearing they will not get out on Tuesday to see all the grand sights. We shall have nothing in the way of rejoicing I shall not be able to make us a cake for Tea. So that if they can go out to see the Show as they call it, it will be food for them. I have been all the week engaged in turning Sheets for the Ladies Friends School at 6d. the pair. Bethell has brought me 2/- for my weeks work we could not have our tea meal till he came home. Do please find the poor girls I shall feel so grateful they have been prisoners so long.

I remain Madam Your obliged sert,
Louisa Chicken.
Feby 7th [1863]




****************




17. Mr. Simpson,

You have perhaps heard that I am in the Workhouse, and in a bad condition of health. I dont expect to come out alive. The Confinement and the Society will kill me: moreover, I cant eat the Porridge, which constitutes our Breakfast and Supper; but we are allowed to have Coffee and Tea if we find it ourselves. Many who have friends to assist them do obtain it. I desire my respects to the Clerks in the Office, and hope that they will have the humanity to raise me a trifle to procure a morsel ofCoffee and Sugar, with a little Tobacco to console and refresh me. Anything left at the Lodge of the Workhouse will reach its destination.

Yours respectfully,
Richard Chicken.
Union Workhouse January 30th [1865]


The society of idiots, the ignorant and the profane, is not adapted to me:- poor Chicken!




****************




18. 75, Camp Road Leeds May 3rd [1866]

Respected Madam,

I removed to Leeds last June with my family. I commenced a School and had two Clerks as Lodgers. We were getting on comfortable. Five weeks ago I was attack with Thyphoid [sic] Fever which terminated in Rheumatic Fever. I am now up but confined to my bedroom. My feet and legs are so swollen I cannot point the ground. It has been a sad visitation as our school was broken up and my two Lodgers left for fear of infection. The surgeon says I now require nothing but good support and previous to the children returning to School I am to have all thoroughly cleaned down. I can neither have one or the other. I am quite out of money and in a strange place. Can I intercede with you for a little assistance. A few stamps I should receive safe and with gratitude. I was over in York to see Chicken twice before Christmas. And when he died on the 22 of Jany I sat up with him all night and saw the last of him poor thing. I was surprised to find one of his old schoolfellows Thomas Greenwood Clayton had bought your property. They were three years together at the Rev. Dr. Hartley's of Bingley, and he used to visit Chickens during the vacations. I should not have known where he was or that he had left Bessingby and Thorpe Arch had he not kindly sent me a Sovereign towards Chicken's funeral expenses. He was the only one who befriended him to the last.

Praying a little help I remain Madam Your grateful sert
Louisa Chicken.




****************




19. My dear Sir,

I am just reminded that you and I pledged our vows at the hymeneal altar about the same time as our Gracious Sovereign, but we have not kept pace with her Blessed Majesty in progeny.
As you are aware, it has always been my desire to maintain a correct personal appearance in whatever sphere I have had the fortune or the misfortune to have been cast, and I take this favourable opportunity of enquiring if you have the matter of half-a-dozen pairs of despised gloves a little worse for wear, they would be of service and appreciated by your old and

Ever grateful acquaintance,
Richard Chicken.

If I may be allowed to express a choice, those coloured brown would be preferred.







Back to Home Page